In a troubled war-torn world, this person who, after being uprooted, was still able to get up one morning and work. Thanks to the kindness and support of well-wishers, he was able to build his life once again for himself and others.
Abdul Halim al-Attar, 33, is a refugee, and devoted father. To support himself and his family, he sold pens on the streets under Beirut's hot summer sun. For al-Attar, who used to work in a chocolate factory when he was held in a Palestinian refugee camp, it seemed like a lifetime ago. Although he is from Syria, al-Attar is Palestinian, and does not have a Syrian citizenship.




Photographs of al-Attar laboring away in the hot sun on the streets, while carrying his sleeping daughter, moved many people's hearts. A kind-hearted online journalist in Norway, Gissur Simonarson, created a Twitter account for him. When it closed three months later, the campaign collected almost forty times more than they had anticipated.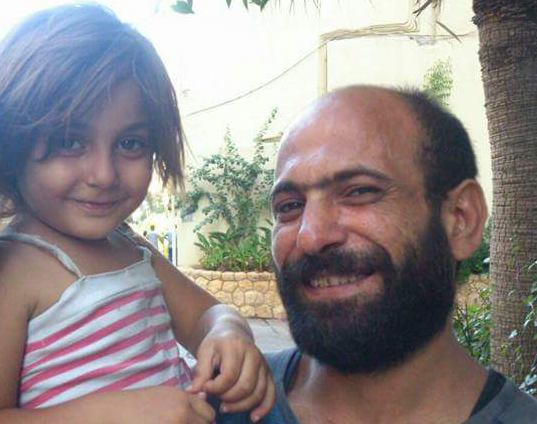 Al-Attar was able to set up a business after the online crowdfunding campaign collected $191,000. Al-Attar opened a bakery two months ago, a kebab shop, and a restaurant. His staff consists of 16 Syrian refugees.
Al-Attar carrying his sleeping daughter on his shoulder while trying to sell pens to passing motorists
Devoted father and his daughter
"Not only did my life change, but also the lives of my children and the lives of people in Syria whom I helped," he said.
Al-Attar moved to a bigger and more comfortable apartment in southern Beirut. Reem, Al Attar's 4-year-old daughter, obviously adores her father. Her brother, 9-year-old Abdullah, is back in school after missing school for three years.
His t-shirt reading: "Stay positive," with a large smile, says it all. "When God wants to grant you something, you'll get it," he said.
Al-Attar says he feels grateful. He is steadily earning an income through selling fresh bread and kebabs.




"I had to invest the money, otherwise it will be lost," he said.
Al-Atar says people are so nice, "They just greet me better now when they see me. They respect me more," he said with a smile.
It goes to show, hard work and a positive attitude always pay off!