Robert Chilowa, a Zimbabwean national, has been told there was 'no case to answer' for his case to stay and he must leave his house within 12 days.
A man has been told he will be deported from the UK weeks after he saved two children from a house fire in Manchester. Robert Chilowa, who was commended by police for the rescue, said the order felt like a "slap in the face".
The Zimbabwean national was hospitalised for smoke inhalation after the fire at his neighbour's house and says officials have now also told him he cannot use the NHS.
"I did a great job but now what they are saying is, 'Get lost'," he said on Friday. "Friends said, 'When are you going to see the Queen? When are you going to be knighted?"
Chilowa ran out of his house barefoot when he heard screams in the early hours of 10 February. A girl who had jumped from the building told him her siblings were still inside. Fighting the heat and smoke, he called up and told the two youngsters to jump and he would catch them.
Three girls and one boy, aged between 10 and 17, and the youngsters' uncle were taken to hospital after the fire. Mohammed Awad, 56, and Hasma Awad, 47, died at the scene.
His bravery "truly demonstrated community spirit", police and fire chiefs said, and more lives could have been lost but for his "noble" actions, along with other neighbours.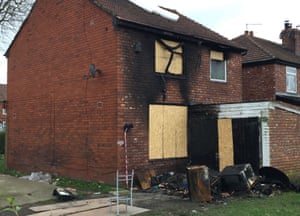 Last week, however, Chilowa was called to a meeting with immigration officials, who told him he had to leave the UK as there was "no case to answer" his application to stay, he said.
He returned home to find a letter from outsourcing firm Serco giving him a "notice to quit" his home after support from the Home Office was ended.
The letter, headed with Serco's strapline "Bringing service to life" and spelling his name wrongly, threatened court action if he stayed in the house and warned he must be out by 11 March, giving him 12 working days to leave and find new accommodation.
He was also informed he could not claim benefits or get alternative accommodation from the local council. The letter said help may be available from the Salvation Army, Red Cross or religious organisations.
"It really broke my heart what I'm going through now," Chilowa said. "I did nothing wrong. I don't have a criminal record. Someone should have a heart."
He was reluctant to go into details about why he did not want to return to Zimbabwe, for fear of consequences for his family still living there. The African state is in turmoil, suffers political violence and is ruled by dictator Robert Mugabe.
The fire is not being treated as suspicious. A Home Office spokeswoman said: "The UK has a proud history of granting asylum to those who need our protection and every case is assessed on its individual merits. If someone is found not to need our protection we expect them to leave the UK."