Forget Airbnb: Meet the man who's slept with 50 tourists in his converted van Joseph Carlson, 23, has travelled 25,000 miles, visited 130 nature parks and hosted 50 strangers during a year offering his van as a 'hostel on wheels'
Six men, one van: it sounds like the start of a joke, but it was a conundrum about sleeping arrangements that Joseph Carlson had to work out last year.
Forget shelling out on Airbnb – Carlson, a "van dweller" who chooses to live in his van rather than a house, offers to share his living quarters with travellers at no cost on Couchsurfing.com.
There's no electricity (he runs battery-operated lights and charges his phone from the lighter socket), no bathroom (he recommends guests shower before arrival, or takes them to hot springs if they're in a national park) and zero privacy – you have to share his bed. Sounds like a nightmare? Not for everyone – Carlson says he's had about 50 people to stay since he started offering it last summer. Including that group of five men.
"That was the craziest," he says. "They were five Irish guys, and they looked like a boy band. I was like, 'Hey, it's going to be really tight' but they were like 'We wanna do it.' But they were the coolest people I've had over." How did they sleep? Three in the bed, one underneath the bed, one on a chair. Normally, he takes solo travellers or the odd couple.
Carlson, who works as a wedding photographer in the summer and freelances for Amazon off-season, lives his life on the road. He spent three months converting his van to host travellers, installing cabinets, a queen-size bed that pulls out from the wall, and a sink – although there's no drain, so he dumps the water outside.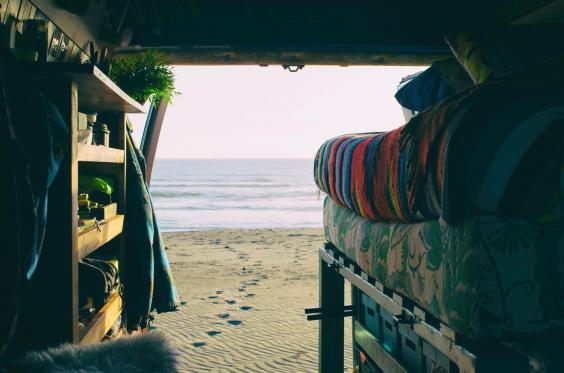 Although Carlson is based in Portland, Oregon, for the near future, he's taken his van – which he calls Vanna White, named after the US celebrity best known for presenting Wheel of Fortune – around the entire Pacific Northwest, covering 30 national parks, 100 state parks and 25,000 miles in the process.
Sometimes he sleeps in the parks, sometimes in a campground. In a city, he heads to the industrial areas, finds an empty lot and parks up for the night (the van has "Optimist" written on the side). Even he sounds a little bemused by the guests. "Believe it or not, people from Europe and Asia and all over the world are like, 'Hey, I'm going to go and stay in that guy's van'", he says.
He advertises his whereabouts on Couchsurfing.com and picks up guests at the nearest train station. He doesn't get paid – even when he acts as an unofficial tour guide, showing them the sights wherever they happen to be. Even for couchsurfing, it seems pretty extreme – or "rather creepy," as Carlson says himself.
"But I feel like we're all put on this earth to help people," he says. "I used couchsurfing a lot when I was travelling, so I wanted to host in my van. I did hitchhiking a few years back, and so many people picked me up that I had to repay that somehow." He likes acting like a tour guide, he says, and saving his guests from ending up in tourist traps. "It's been one of the best experiences of my life."
He's converting them, too – "so many people say, 'This is awesome, I want to do this'," he says – and he's currently in the process of helping three people set up their own vans to hosts guests.
One of them is his girlfriend. She doesn't mind him sharing a bed with all these strangers, he says, because they're polyamorous. Does that mean he gets it on with guests? "Well it's not the reason I host folks," he says. "But whatever happens between two consenting adults in a van is between them, I suppose."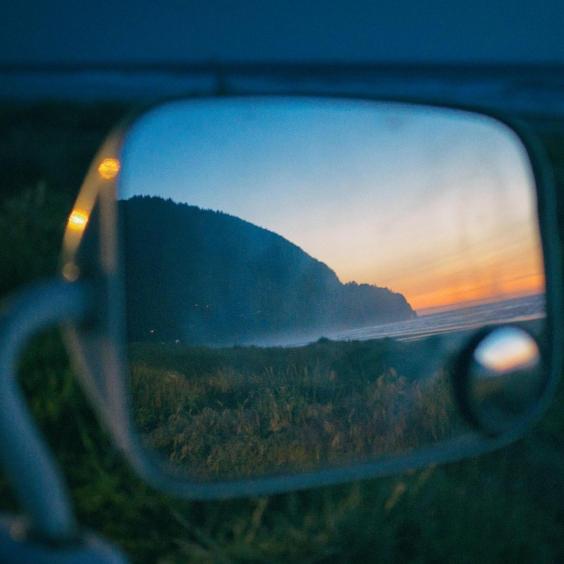 Joseph's set-up isn't for everyone – it's not even for all his guests. "One was a very conservative girl from the Midwest, and she arrived and said she wasn't sure, so I offered to drop her at a hostel," he says. Did he feel rejected? "No, you've got to be comfortable with it. We still ended up hanging out for the next couple of days."
But he's a fervent ambassador for the van dweller lifestyle.
His favourite place is the Oregon Coast – "It reminds me of New Zealand, and because it's cold and windy and rains a lot, that keeps the tourists away" – and his favourite drive is Highway 95 in Idaho which follows the Salmon River: "It looks like a beautiful painting with a pink sun."
After his stint in Portland, he's going to relocate down south – first San Diego, then down to Mexico and Baja California. He's planning time in Slab City, a commune near the Salton Sea in the Sonoran Desert. Ultimately, he wants to open a campground of vans, renting them out this time instead of letting people shack up for free. But that won't be for a while – right now, he's enjoying life on the road.
"Sometimes after a hard night of partying, you get back in your van and you wake up the next morning and you're at home, because you're in your van, but you look out the window and don't know where the hell you are. I've woken up before and thought, 'Oh, man, how did I get here? At least I'm home'. I have to drive till I figure out where I am."